Below you will find a digested timeline of Electrolux Design Lab Competitions. Established in 2003, Electrolux Design Lab is a global design competition open to undergraduate and graduate design students who are invited to present innovative ideas for future households. Each year Electrolux challenges design students all over the world. The challenge is to create a concept that is relevant to the time and raises questions about what design will be like in the future. In previous years, concepts have been requested for healthy eating, sustainable living, the internet generation and ever-shrinking city spaces for example. In response, young students have submitted designs such as Flatshare, a stackable refrigerator for roommates, Cocoon, a meat and fish maker, and Snail, a portable induction heating concept.
The brief for 2015 calls for innovative ideas for Healthy Happy Kids under three focus areas; Cooking, Fabric Care and Air Purifying.
Electrolux Design Lab 2015 -Winner
Electrolux Design Lab 2014-Winner
Electrolux Design Lab 2013-Winner
Electrolux Design Lab 2012-Winner
Electrolux Design Lab 2011-Finalists
Portable Spot Cleaner wins Electrolux Design Lab 2011
Adrian Mankovecký from the Academy of Fine Arts and Design Bratislava in Slovakia is the winner of the Electrolux Design Lab 2011 competition. His Portable Spot Cleaner surpassed a field of 1,300 entries from over 50 countries.
A jury of award winning architects and designers selected the Electrolux Design Lab winner from eight finalists. The final took place at the Room Home Intelligence Conference London on September 7.
Portable Spot Cleaner
The Portable Spot Cleaner has two components. The user separates them, place on either side of the garment and choose the suitable cleaning program. Negative Ions and steam refresh clothing and remove stains. The cleaner is powered with a sugar crystal battery, and can be used practically anywhere in the world.
The jury was impressed by the Portable spot cleaner's creative and insightful thinking. From the jury motivation: "The Portable spot cleaner is built on a very solid consumer insight and it is highly relevant. It is an instant laundry device that has a positive impact on the environment by reducing consumption. Its usage and interaction are very intuitive. We all want one."
Electrolux Design Lab 2010
Electrolux Design Lab 2010-Wins with "The Snail"
Peter Alwin from National Institute of Design in India is the winner of the Electrolux Design Lab 2010 competition for inventing The Snail, the Micro Induction Heating and cooking device.
Electrolux Design Lab 2009
Cocoon wins Electrolux Design Lab 2009
Rickard Hederstierna from Lund Institute of Technology in Sweden is the winner of the Electrolux Design Lab 2009 competition for inventing the Cocoon, the meat and fish maker. The winner was announced at finals in London on September 24, at 100% Design London, the UK's leading architecture and design event.
"Cocoon" is a sustainable response to the world's growing population and its desire to consume meat and fish. Similar to heating popcorn in a microwave, Cocoon prepares pre-packaged meat and fish dishes by heating muscle cells identified by radio frequency identification (RFID) signals. The signals detect the specific dish and then suggest the required cooking time. This process uses science to create food, lifting a burden on the planet by reducing the need for further intensive farming and fishing.
Electrolux Design Lab 2008
WINNERS!
Electrolux Design Lab 2007
Electrolux Design Lab 2007: Winner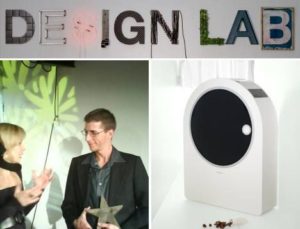 Congratulations  Levente Szabo, A Hungarian design student, who took home the top prize from the Electrolux Design lab 2007 competition with E-wash, a compact washing washing machine that uses soap nuts instead of detergent. The announcement happened in Paris, where all the finalists had gathered to compare and celebrate their designs.
Electrolux Design Lab 2006
healthy eating habits
Design students from around the world created inspiring household appliance solutions for food preservation and storage that promote healthier eating habits for 2016.
 The first-place winner was "Nevale" (above on the left), a food carrier designed in layers to allow consumers to store and carry up to four hot/cold meals. Food is maintained through a vacuum system, so soup can be on the menu, and it can be programmed to launch an automated reheating system at a specific time.
Second place went to "Organic Cook" (center), an appliance that offers oil-free frying, grilling and boiling using infrared technology and vacuum cooking.
"Vessto" (right), the third-place winner, uses renewable energy as a power source through a version of a Stirling Engine. The concept uses heat from the stove to expand and contract small quantities of gas inside the appliance, which powers the product.
Fit-Snack-Joy (left) is a clever tabletop appliance that turns raw fruits and vegetables into cookies. It cleans, chops, bakes, seasons and molds fresh foods into fun, cookie-shaped snack, and even includes nutritional information on a variety of fruits and vegetables, so users can more easily find good combinations for healthy eating.
"Hydrosphere" (center) is a small hydroponic greenhouse for growing fresh herbs and salads. A grow lamp is positioned in the middle bottom of a clear glass globe, enabling herbs and small fruits to grow around it, and it's all powered by a solar panel.
If the tabletop variety is too small, there's "Vege" (right), an appliance that grows hydroponic vegetables in your kitchen, all year round, and it's designed to hold up to 40 plants.
Source: https://www.treehugger.com/sustainable-product-design/electrolux-design-lab-2006-winners-finalists.html
Electrolux Design Lab 2005
Award goes to students from Singapore
(ELUX) Electrolux today presented its third Design Lab Award to Airwash, a waterless washing unit. Students from leading schools of design in over 88 countries participated in the competition. Entries were received by more than 3,000 students in all continents, all competing to create the most outstanding new appliance concept for the home of 2020.
The winner, Airwash, is a waterless washing unit that utilizes negative ions, compressed air and deodorants to clean clothes. Its form is inspired by the waterfall, nature's negative ion generator. Airwash eliminates the need for detergent and water. By using atmospheric air and negative ions – a natural cleansing agent – it fights dirt and bacteria with nature's own weapon. It is designed to be placed anywhere in the home, not only in the laundry area. The simple user interface "floats" to wherever on the appliance the user wants.
Electrolux Design Lab 2004
Students from the University of New South Wales, Australia won the top prize for Appliance of the Future at the Electrolux Design Laboratory 2004 competition in New York.
The winning concept is the Rockpool dishwasher. It is a unique dishwasher that combines a highly sophisticated waterless cleaning technology with a simple user interface. Rockpool employs a cleaning process, which uses carbon dioxide in supercritical fluid form to dissolve grease and oils to remove particles. The carbon dioxide is returned to storage for reuse once the oils have been separated out into the waste management system. Water and chemicals are not used, thereby reducing strain on the environment.
Source: http://www.appliancedesign.com/articles/89179-australian-students-win-electrolux-design-lab-2004