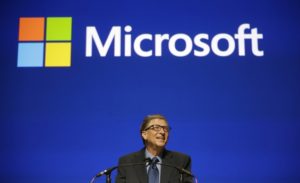 Bill Gates has been almost prophetic in his past predictions: his 1999 list was hauntingly accurate, foreseeing the advent of price comparison websites, smartphones, social media, and bots. Over the last few years, in interviews and annual letters, he has continued predicting: here are a selection of seven of his insights.
1. IN THE NEXT 15 YEARS, 33 MILLION PEOPLE COULD BE WIPED OUT IN LESS THAN A YEAR BY A PATHOGEN.
2. AFRICA WILL BECOME ENTIRELY SELF-SUFFICIENT IN TERMS OF FOOD PRODUCTION.
3. THE LIVES OF THE POOR WILL BE TRANSFORMED BY MOBILE BANKING.
4. IN THE YEAR 2035, POOR COUNTRIES WILL NO LONGER EXIST.
5. BY 2030 THERE WILL BE A CLEAN ENERGY BREAKTHROUGH THAT WILL REVOLUTIONIZE OUR WORLD.
6. COUNTLESS JOBS WILL BE LOST TO AUTOMATION.
7. POLIO COULD BE ELIMINATED WORLDWIDE BY 2019.
Source: Bill Gates Has Seven Predictions for the Future
Microsoft HoloLens